Supply chains and last mile delivery perfected with our Drayage Platform. 
KlearNow's Drayage platform is best combined with the Customs360 or Customs Engine product for perfected chain, nonetheless, it can also be a standalone product. By having access to live ETA's and customs data, we provide data up to 2 weeks prior to port arrival making us your best source for seamless optimized container pickup and delivery.
Procurement Simplified
Aggregate Dispatch Data Unified
Live Truck Connection Advantage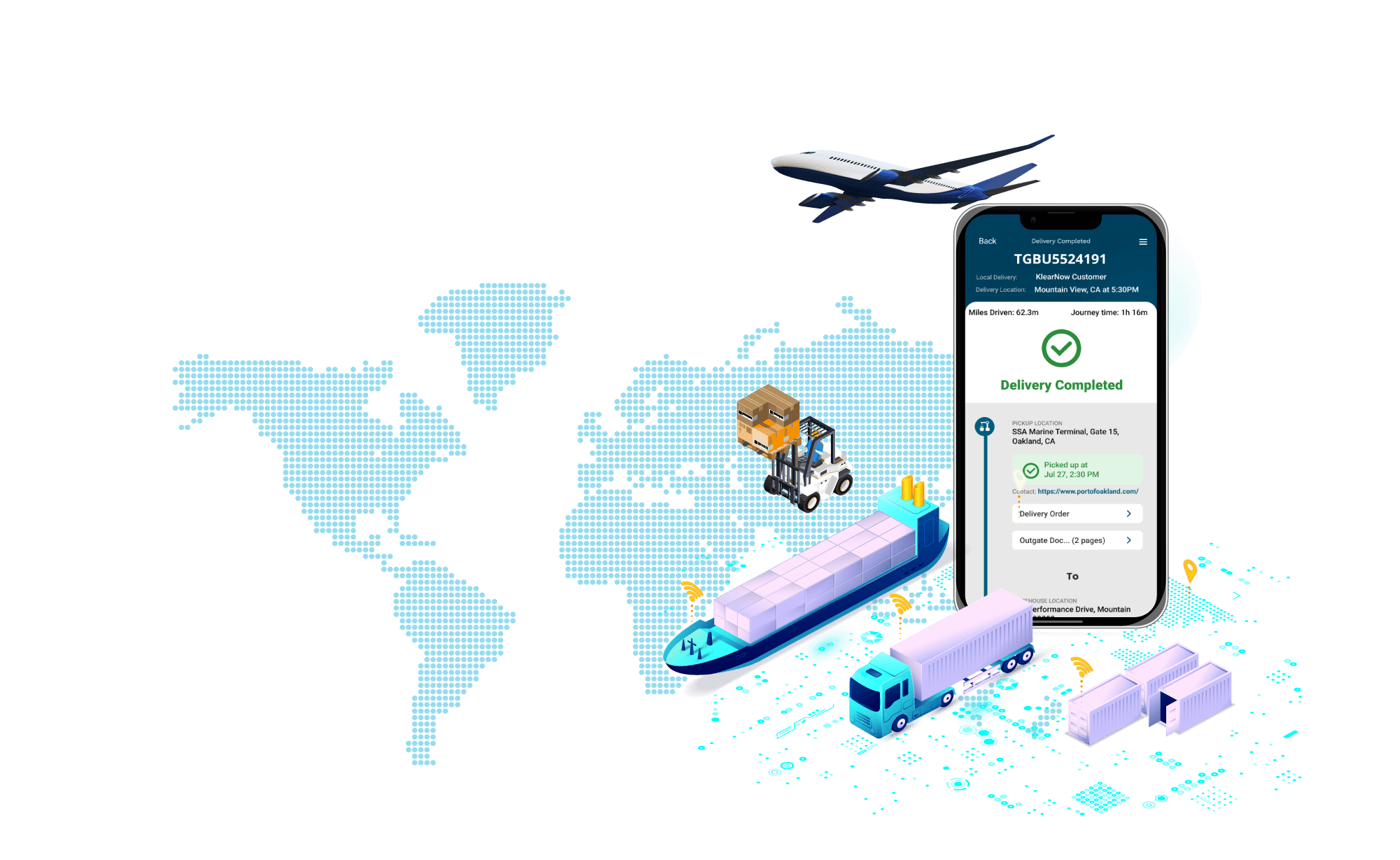 Drayage360- Designed for Perfected Last Mile Delivery
remove stress from your day. 
Drayage360 allows for simplified procurement giving you spot & contract pricing live. You will also have aggregate dispatch data all combined and hold a direct truck relationship advantage to competitors. We allow you to use our drayage modulated supply chain solution but works best combined with our customs data insights.
DIGITAL MARKETPLACE
Reduce dwell times, avoid demurrage & per-diem charges
Make decisions based on data-fed insights' dashboard
Improve efficiencies and maximize workforce utilization
TRANSACTIONAL DRAYAGE
Be the earliest bidder
Get first access to the best drayage space available
Schedule, track, and pay within the same platform
STREAMLINE TRACKING
Gain real-time end-to-end freight visibility
Access granular details on freight movement
Dashboard aggregates all insights in one place
Direct connection to drivers to manage exceptions
DITCH MANUAL PROCESSES
Eliminate manual entry errors & email clutter
Work at 10x your speed by automating data entries
Gain operational efficiencies and improved bottom lines
DIGITAL SIGN OFF
Digital approvals reduce shipment delay
Stop chasing people for signatures and approvals
Digital signatures keep track of who signed off deliveries
SMART PROCUREMENT
Leverage KlearNow.AI insights to reduce costs
Optimize operational costs and improve bottomline
Pay truckers in record time
​IMPROVE PRODUCTIVITY
Work at 10x your speed by automating data entries
Eliminate manual entry errors & email clutter
Shared data enables better planning and customer service
PERFECT ON-TIME DELIVERY
Get instant notifications, reporting & analytics
Improve transparency with real-time visibility
Problems eliminated by being in the know
DELIGHT CUSTOMERs
Wow customers with live tracking capabilities
Enable customers to control costs with data insights
Offer white-label solutions to delight customers
CONTROL COSTS
Limit unnecessary IT & optimize workforce costs
Do more with less – maximize your team's potential
Improve market share with cutting-edge tech tools
Download the KlearDray App
today!
We know there are many drayage apps out there, but only KlearDray connects a marketplace of dray providers, provides upstream container arrival information, and connects directly to CBP for customs hold status. Get near real time confirmation of carrier, terminal, and customs release information.
FREQUENTLY ASKED QUESTIONS
How do I get onboarded?
Drayage Vendor onboarding is a quick online process via a shared link from a KlearNow.AI procurement specialist
How does it work from a drayage provider vs a drayage customer?
Drayage Customer Onboarding is managed by a KlearNow.AI Sales Rep
Can your system receive data in any format?
The KlearNow.AI system can receive any format of data, we generally prefer utilizing our proprietary ingestion method.
What are your reporting capabilities?
We have full reporting capabilities through the Klearview Dashboard. Klearview has full analytics with export functionality.
Can you export data and or reports?
We have full reporting capabilities through the Klearview Dashboard. Klearview has full analytics with export functionality.
What's the price range?
The KlearNow.AI Market Place is at no cost to Drayage Vendors, please speak to your KN sales rep for drayage customer pricing. (We do not have a set price structure at this moment, we mainly charge a margin model as we are a licensed US freight broker. We will have a better idea on subscription pricing soon) – "Do not include any of that information"
How I can find or follow my shipment instructions
You can log in via secure link or through the KlearNow.AI website
If there is an issue, who do I contact?
We have a US based drayage customer support team, please connect via email or phone. Email is drayage@klearnow.com We are still working on getting a phone system.
What key information is needed to get going
Key information for setup to place drayage freight on marketplace is same as setting up for customs with KN
How do you invoice?
Drayage vendor creates their invoice on our platform, drayage customer pays invoice via on platform or by traditional invoice method
How do I get paid?
Drayage vendors are paid ACH once invoice is submitted on the KN drayage platform
CLIENT TESTIMONIALS
KlearNow provides us with great clearance and visibility for both our own imports and those of our customers. They are critical to the success of our team.

Director, Global Forwarding
I would recommend KlearNow.AI as it's fast, easy-to-use and the support is second-to-none. The online portal/cloud is great and an easy place to store everything and for our company to stay compliant. I'm a big fan. I just wish haulers would help me more!

Export Area Manager and Supplier Logistics, Automotive Company
From an initial contact and presentation of their systems and understanding their proven record in the US/Canada. I was clear that KlearNow.AI could step up to the challenge of BREXIT. KlearNow.AI and the systems they have developed are proving invaluable to our company.

The speed in which accurate declarations are submitted and approved in most instances are down to minutes. This is a process that if brought in-house would have significantly impacted on our staffing levels and would have inevitably created delays and inaccuracies.

The communication and response time is exceptional and in truth I admire how they make this possible in a startup position in the UK, however I suspect that the caliber of people, having recruited some of the best customs specialist across the UK, has played a big part in this.
It would be fair to say that without the support of KlearNow.AI and their platform I have no idea how I would managed to keep my imports rolling on time. The platform is user friendly, and I especially like to be able to download the C88 documents as I like to give my hauler a hard copy.

Managing Director, Trade Services